Specifications 2:


Type:
compact

Weight (inc. Battery)

[?]

:
194g

Wide Angle

[?]

:
24mm

Max. Focal Length

[?]

:
100mm

Zoom Range

[?]

:
x4.2

Sensor Size:
1/2.3"

Low Light Support

[?]

:
twilight

Image Stabilization

[?]

:
Optical

Raw Format Support

[?]

:
none

Manual Exposure

[?]

:
yes

Video Resolution

[?]

:
1080p

Optical Zoom In Video

[?]

:
yes

Stereo Sound

[?]

:
stereo

Battery Life

[?]

:
230 shots

Flip Lcd

[?]

:
none

Touch Screen

[?]

:
none

Viewfinder

[?]

:
none

Freeze / Water / Shock - Proof

[?]

:
no

Dimensions (w-h-d)

[?]

:
103 x 58.3 x 32 mm

Macro Distance

[?]

:
2 cm

Built-in Wireless

[?]

:
none

Built-in GPS

[?]

:
none

Direct Video Button

[?]

:
yes

Panorama

[?]

:
sweep panorama

Rank:

[?]




60.2



Initial Price:
$329 (change:

↓

$150, 46%)

Last Price Change:


↑

$10 (6%) (Jul 5th)

Last Lowest Price:
$179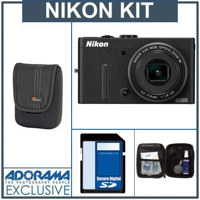 Support this site by purchasing accessories for the Nikon Coolpix P310:
Nikon Coolpix P310 - Full Review
Important Note:
the P310 was replaced by the
Nikon Coolpix P330
(
compare
).
Strengths & Improvements
If the Nikon Coolpix P300 was considered a rival of the Canon PowerShot S95 in 2011, the Coolpix P310 takes on the S100 for a ride in 2012. This is surprising, due to the fact that neither the P300 nor the P310 have the larger imaging sensor of the Canon S range.
What it does have, is a very large maximum aperture setting of f/1.8, larger even than the S100's f/2.0, in a compact, sub-200-gram body. This, together with its Backside Illuminated CMOS sensor makes it a better low-light performer than 90% of all compact cameras - at least all those with the same standard sensor size of 1/2.3". Combined with a sub $250 price tag, the P310 should definitely be on any compact camera buyer's priority list.
Build Quality & Handling
The black metal body of the coolpix P310 brings comfort to your hands, it's quite small and its matte finish and square corners project unpretentiousness and unobtrusiveness, which help prevent photos containing surprised looks, face-hiding hands or turned-away heads.
There are plenty of controls, including (other than the ordinary on/off, shutter, zoom, menu, play and direct-video buttons), the main modes dial and two different control dials (one on the top and one on the back). These are very convenient in navigating through the menus or adjusting the various settings of the camera.
The rear dial doubles as a four-way rocker for a quick access to the flash, exposure, timer and macro options. On top of that, if you wish to have direct controls over another feature, the P310 has another configurable button labeled 'Fn' on the front of the camera. It is likely to be configured to control the ISO level, but can also control image size, white balance, metering, continuous modes and auto-focus areas.
Performance
Focus Speed
: Focusing is a breeze with the P310 - it works well - remembering that it's a compact camera, of course, we're not talking DSLR speeds here. Not even close.
Moreover, it is able to lock in very low lighting conditions with the help of its AF illuminator, as well as in extreme close up shots - working well all the way down to a distance of 2 centimeters. If you happen to forget it in macro mode, you'll notice the autofocus becomes hesitant before locking on to far away objects. It still works, but takes a few fractions of a second more.
Operation
: The P310 offers plenty of controls, while maintaining a rather intuitive and friendly interface. While in Auto mode, there is little use of the various dials - and control can be reduced to the on/off, zoom, shutter, video and review buttons.
Diving into the semi-manual or fully-manual modes, the two control dials kick in and prove to be highly efficient. Changing both the aperture and shutter is easy when you have two dials, making the P310 a true photographic tool.
Despite this extravaganza of available controls, there is one prominent flaw in the design of the P310. While in shooting mode, the OK button in itself does nothing. Had it been designed to open a quick menu, with common settings such as white balance, ISO levels, image size, special effects, etc., it would have prevented the need to dwell in the menus for each and every change of those settings.
Another issue is the ISO level setting. On one hand, it has great selectable options, allowing both fixed values as well as auto modes with different maximum levels. On top of that, it's possible to select a minimum shutter speed to avoid blurry shots - this is a brilliant idea and could have been very convenient, if it actually worked. It could be a user's error, but the shutter speed behaved illogically and unrelated to the focal length, the aperture, the ISO level and available light, resulting in some cases in slow shutter speeds or underexposed images.
One more quirk is that the Auto ISO in Manual mode is not really auto - ISO is actually set to 100, so it would have been better so disable this option in M mode altogether to avoid confusion.
Image Stabilization
: Nikon's optical Vibration Reduction system works well in the P310, allowing speeds as low as 1/4 seconds at the wide end of the lens. This doesn't help when photographing moving subjects, of course, but is plenty useful for landscapes, etc.
Battery Life
: Like many other compact cameras, the P310 can take around 230 shots in average before draining its battery. This is not far better or worse than the competition, and is satisfactory for day-to-day usage.
The ability to charge the P310 via USB comes in handy since there's an available USB port around you somewhere most of the time. However, for longer durations and for travelling, a spare battery is highly recommended.
Image Quality
In general, the image quality of the P310 is good. Definitely nothing stellar in terms of colors and dynamic range, but as expected from a 1/2.3" CMOS sensor.
Images of strongly colored objects tend to be over saturated - an issue which can be easily solved via the menu settings, but not when using full auto modes. This comes as a bad surprise from the semi-high-end compact camera which the P310 is meant to be.
Colors & Contrast
:
ISO Range
: Similar to many other cameras with standard sized 1/2.3" CMOS sensors, the P310 exhibits noise at all ISO levels, but produces pleasing results up to ISO 400 or even ISO 800, especially when viewing on screen.
Moreover, there's hardly any viewable difference between all ISO samples below (up to ISO 3200!) at the size in which they are displayed. View them at full size (as in the 100% crops below), and you'll see that images at ISO 1600 start to get murky and images at ISO 3200 retain much less detail than at the lower levels.
It's worth mentioning that the P310 does an impressively good job at producing relatively rich colors at high ISO levels. They may be rich in noise and lacking in detail, but as long as you don't zoom-in, or pixel-peep as they say, they look not bad at all.
Advanced Features
Sweep Panorama
: Very much a fun feature, the automatic panorama becomes a useful tool as well when it works properly. In the P310, this is indeed the case - with not many jagged seams, the output is usually perfectly usable.
There is an option to sweep horizontally with the camera in its regular upright position, resulting in a 560 pixel high photo. On top of that, the P310 allows sweeping vertically, so you can turn it on its side, sweep across the view and get a much more useful 1024 pixel high photo.
Macro
: This is a true strong point of the P310. Details pop out of images taken 2cm away from the subject, revealing things the naked eye can't see.
Take a look at the full size of sample image with the purple flower below. Notice the tiny spider crawling there? Its leg span is about 2mm.
Autofocus works remarkably well too at these distances, unlike other cameras whose autofocus becomes hesitant at anything under 10cm.
Rank:
Automatically compared to similar cameras, based on specifications:
Low Light:
Wide Angle:
Zoom Range:
Weight:
Other Features:
Price:
Total Rank:
Other Tools:
Related Posts:
Related Pages: