Specifications 2:


Type:
compact

Weight (inc. Battery)

[?]

:
200g

Wide Angle

[?]

:
24mm

Max. Focal Length

[?]

:
120mm

Zoom Range

[?]

:
x5

Sensor Size:
1/1.7"

Low Light Support

[?]

:
well lit rooms

Image Stabilization

[?]

:
Optical

Raw Format Support

[?]

:
yes

Manual Exposure

[?]

:
yes

Video Resolution

[?]

:
1080p

Optical Zoom In Video

[?]

:
yes

Stereo Sound

[?]

:
stereo

Battery Life

[?]

:
200 shots

Flip Lcd

[?]

:
none

Touch Screen

[?]

:
none

Viewfinder

[?]

:
none

Freeze / Water / Shock - Proof

[?]

:
no

Dimensions (w-h-d)

[?]

:
103 x 58.3 x 32 mm

Macro Distance

[?]

:
3 cm

Built-in Wireless

[?]

:
none

Built-in GPS

[?]

:
built-in gps

Direct Video Button

[?]

:
yes

Panorama

[?]

:
sweep panorama

Rank:

[?]




75.8



Initial Price:
$379 (change:

↓

$183, 48%)

Last Price Change:


↓

$68 (26%) (Feb 4th)

Last Lowest Price:
$346

$196



The Nikon Coolpix P330 is on a $150 rebate!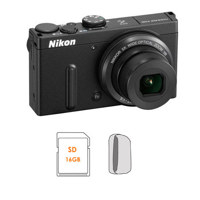 Support this site by purchasing accessories for the Nikon Coolpix P330:
Nikon Coolpix P330 - Full Review


The Nikon Coolpix P330 is on a $150 rebate!
- order now via the links in the box.
Finally, a proper compact high-end Nikon Coolpix.
Important Note:
the P330 was replaced by the
Nikon Coolpix P340
(
compare
).
Strengths & Improvements
The Coolpix P330 is a highly welcome improvement over the P310, which managed to rival better cameras, especially Canon's S100 - thanks to its large max aperture of f/1.8 combined with a x4 zoom in a compact body.
The S100 had a clear advantage over the P310, as it not only supported RAW format, but also (and much more importantly) a significantly larger 1/1.7" imaging sensor, compared to the P310's standard sized 1/2.3" one.
The P330 obliterates the advantages of the current
Canon PowerShot S120
(
compare
), as it brings with it enough improvements to match or surpass it.
First and foremost, its sensor is a 1/1.7" CMOS, much like in the
Nikon Coolpix P7700
(
compare
), Nikon managed to enlarge the sensor while retaining the compact size of the camera, as well as its maximum aperture (still f/1.8) and even stretch the zoom to 24-120mm (x5), making it basically similar in its basic spec list to the S120.
The P330 also adds a built-in GPS, but lacks the ever more popular features - touch screen and wireless connectivity.
Its initial price was easy to live with, as well, coming in at $379, now already touched under $300. Mind you, the P310, which is still a wonderful camera, costs much less than that, if you can find it, that is.
Build Quality & Handling
The P330 is a small creature. It sits comfortably in your hand but requires careful handling as to keep it there. It has two dials which make control over exposure settings rather intuitive. The dial that controls the aperture does so in all relevant modes and such is the case with the shutter dial as well. No guess work necessary.
There's a customizable Fn button at the front, which is most usable when set to control the ISO level, though it has a long list of options. All in all the camera is very easy to handle, to learn the menus and buttons, even the advanced features.
Note to Nikon - the OK button should (but it doesn't) open a quick menu which contains, let's say, all the menu items available for setting of the Fn button. This way all commonly used settings would be easily accessible - ISO, WB, RAW, metering, continuous, etc. instead of having to navigate in the menus. Easily done (just a few man-months' work) through a firmware update.
Performance
Focus & Zoom Speed
: Zooming in or out takes about two seconds. During video, the zoom is much slower, probably in order to be as quiet as possible and not interfere with recorded sounds.
Autofocus in moderate lighting conditions takes just over a second. In very good light it's practically instantaneous as long as you are still and so is your subject.
In macro mode, AF is reluctant to lock on small objects, so in many situations I had to lock on another object and then recompose, or even use manual focus instead.
Operation
: Operation speed is the Achilles Heel of the P330 (and of all Coolpix P's for that matter). Everything about is slow - menus take time to respond, switching from playback to shooting mode feels like the camera wakes up from a deep slumber. Photographing kids on the move is nearly impossible due to its slow screen update and long shutter lag.
Another example is how long it takes to bring up image details when viewing them - anywhere between two and four seconds. Then, there's no way to scroll between them - you must exit the detail display in order to do that.
Image Stabilization
:
Battery Life
: Battery life is not something the P330 could be proud of - with an official 200 shots per charge, it bows its head in humiliation, facing other compacts which brag with their fancy 300 shots per charge (e.g. the
S120
(
compare
)). On top of that, it seems that the battery indicator isn't accurate at all times - it shows a full battery level, only to quickly drop to extremely low levels and then to flat dead.
Image Quality
Colors & Contrast
: The larger sensor of the P330 improves the already excellent formula of the P310, providing vibrant colors in most situations.
It does have a tendency to over warm the image during sunset and overcool right after, but in general, colors are accurate and pleasing.
Dynamic Range
: Don't expect any miracles in this department - it's a compact camera, don't forget. It holds its own against the competition.
There's a d-lighting mode to artificially enhance dynamic range, which manages to pull out some details out of over and under exposed areas.
Oh, don't forget this usual coolpix quirk - when active d-lighting is set to auto, metering is fixed on matrix.
ISO Range
: When viewing at 100%, it comes somewhat as a surprise that noise is visible at ISO 200. Other cameras with similarly sized sensors can easily go without noise to ISO 400.
ISO 400 show a slightly lower level of fine detail and ISO 800 is where the plunge takes place. The difference between ISO 800 and ISO 1600 is less apparent than between ISO 400 and ISO 800 and by ISO 3200 you hit the limit of acceptable image quality for online viewing.
Switching between ISO levels is made easy by using the Fn button at the front of the camera. I especially liked the fact the Auto ISO allows the selection of both the maximum ISO level and the minimum shutter speed.
Video Quality
:
Advanced Features
Time Lapse
: Yay! The P330 has an interval timer with intervals from 30 seconds up to 10 minutes. This is not different from what the P310 had, but is nonetheless a welcome feature, no doubt. The timer is limited to a total of 300 minutes (30 shots of 10 minute intervals or 600 shots of 30 second intervals, etc.) but I'm not sure how the battery holds up in these situations.
Neutral Density Filter
: Yay again - There's a built in ND filter! This means you can use the P330's large f/1.8 aperture at bright sunlight, making it a better camera for street photography, being able (to its own limits) to isolate and emphasize its subjects.
This feature is highly useful for videos, as well. It also means you can use lower shutter speeds to emphasize motion. See the x2 slow mode video above for an example of a video using the ND filter.
Artistic Filters
: The P330 offers the usual list of effects and filters, long as it may be. Selecting the special effects is done inside the scenes menu, which is a bit cumbersome - it should have been in a separate mode on the main dial.
I used the b&w color mode with its yellow filter variation and was pleased to see output requiring little to no post processing.
Smile Detection
: This feature made me smile. It really knows when you're smiling and sets off the shutter accordingly. This means you can strict your shots to such with smiles and avoid the frowning ones. In theory, that is.
For some reason, the P330's smile detection is overly developed, such that it considers a wide variety of facial expressions to be smiles. See the example below in order to understand the diversity of those smiley expressions.
The Competition
The P330 takes upon itself to offer oposition to Canon's much loved S series, currently led by the
Canon PowerShot S120
(
compare
). While the P310 managed to rival the S100 even though it had a smaller sensor and no RAW (and did so pretty well), the P330 has no excuses.
They have the same lenses (24-120mm, f/1.8 max aperture) in relatively similar bodies (the P330 is slightly larger), the S120 has better battery life, touch controls and wi-fi. The P330 has a built-in GPS, sweep panorama and an ND filter. The Achilles heel of the P330 in this duel its processor, making the camera slow to respond. The S120's disadvantage is its price - which is currently 50% higher
That's not all, of course - there are quite a few compact high-end cameras, such as the
FujiFilm FinePix XF1
(
compare
), the
Panasonic Lumix DMC LF1
(
compare
) and the
Panasonic Lumix DMC LX7
(
compare
).
There's also the
Sony Cyber-shot DSC RX100
(
compare
) which is highly superior to the P330, due to its much larger sensor, though at a steep price.
Score:
Image Quality: 8.5
Performance: 7.5
Build & Handling: 8.5
Advanced Features: 9
EyalG's Total: 8.4
Rank:
Automatically compared to similar cameras, based on specifications:
Low Light:
Wide Angle:
Zoom Range:
Weight:
Other Features:
Price:
Total Rank:
Other Tools:
Related Posts:
Related Pages: