Specifications 2:


Type:
compact

Weight (inc. Battery)

[?]

:
392g

Wide Angle

[?]

:
28mm

Max. Focal Length

[?]

:
200mm

Zoom Range

[?]

:
x7.1

Sensor Size:
1/1.7"

Low Light Support

[?]

:
well lit rooms

Image Stabilization

[?]

:
Optical

Raw Format Support

[?]

:
yes

Manual Exposure

[?]

:
yes

Video Resolution

[?]

:
1080p

Optical Zoom In Video

[?]

:
yes

Stereo Sound

[?]

:
stereo

Battery Life

[?]

:
330 shots

Flip Lcd

[?]

:
flip & selfie

Touch Screen

[?]

:
none

Viewfinder

[?]

:
none

Freeze / Water / Shock - Proof

[?]

:
no

Dimensions (w-h-d)

[?]

:
118.5 x 72.5 x 50.4 mm

Macro Distance

[?]

:
2 cm

Built-in Wireless

[?]

:
none

Built-in GPS

[?]

:
none

Direct Video Button

[?]

:
none

Panorama

[?]

:
sweep panorama

Rank:

[?]




65.1



Initial Price:
$499 (change:

↓

$120, 24%)

Last Price Change:


↓

$10 (3%) (Aug 4th)

Last Lowest Price:
$379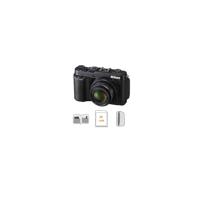 Support this site by purchasing accessories for the Nikon Coolpix P7700:
Nikon Coolpix P7700 - Full Review
Perhaps making less waves in the pond, the replacement of the high-end, RAW enabled 1/1.7" sensor P7100 is finally here - in the shape (which is radically modified) of the P7700.
Important Note:
the P7700 was replaced by the
Nikon Coolpix P7800
(
compare
).
Other than the new looks and the lack of a viewfinder, the P7700 is built around a CMOS sensor, unlike the P7100's CCD - this could imply better low-light support, on top of faster performance and full HD 1080p video.
The P7700 has another major improvement over the P7100 - a maximum aperture setting which is a full stop larger across the focal range. It has an f/2.0 at the wide end, compared to the P7100's f/2.8 and an f/4.0 at the long end, unlike the P7100's f/5.6. There's no doubt - this is a significant change in favor of the new model.
Strengths & Improvements
Last year's Coolpix P7100 failed to slay the G12. It had the advantage of having the largest zoom range combined with a 1/1.7" sensor (the Fuji X-S1 is another story) and still, it couldn't quite pull it together.
One of the irritating issues with the P7100 was that it was slow. Its menus were slow to respond but more importantly - its file writing times were beyond the reasonable and the acceptable.
This year's Coolpix P7700 throws a brave attempt at fixing what needed fixing. Let's see how it all turned out.
It still holds the largest zoom with 1/1.7" sensor except the much larger and much more expensive X-S1. That ace is up its sleeve, no doubt, but the real treat is that it drastically improves the P7100's f/2.8-5.6 maximum aperture range by a full stop across the zoom range, spreading aperture goodness of f/2.0 at the 28mm wide end and f/4.0 at the 200mm mark.
There are cameras with larger apertures at the wide end, of course ( G15 f/1.8 @ 28mm, LX7 f/1.4 @ 24mm) but all in all, no other lens delivers such a combination of zoom and apertures in the compact camera world, not to mention DSLR's, in which people would drool over such a lens, had it existed.
The P7700 also made the switch from the CCD sensor that the P7100 had to a new CMOS sensor, delivering superior speeds, such as frames per second (8), and full HD video resolution.
Other than that, the P7700 retains in general the structure of the P7100 with one main difference - it has no viewfinder. Nikon probably went this way in order to make it smaller in size, which it is, but only in height - it's 4.4mm shorter, but it's also 2.2mm wider and 2.4mm thicker (that's due to its larger lens).
Build Quality & Handling
The P7700 is all about control and is rich with features and configuration options. Its three dials are very comfortable to use - control over the various settings is quick and easy, once you understand which dial controls what in every mode and menu.
It's unfortunate that in different situations the dials have different roles, sometimes the front and top have similar functionality but in others, it's the top and back dials that do the same thing.
Performance
Focus & Zoom Speed
: Autofocus speed is very good as long as ambient light is sufficient. In extreme low light conditions AF is somewhat hesitant, as well as when using full zoom in low light to a level which is acceptable by a compact, not so much by a high end one.
During video, the autofocus is ok. Not super quick, but locks with confidence. Its mechanism can be slightly heard, but only when shooting in utter silence. The zoom mechanism, however, is quite loud, as you can see in the video example below.
Buttons & Menus
: First and foremost, the P7700's rings and Fn buttons must be mentioned. They create a very useful control experience and can control most common functions.
In the menu dial, situated on the top left of the camera, you can choose between ISO, Image Quality, White Balance, Picture Style and one more customizable menu - My Menu.
My menu is the closest thing to a quick menu that other cameras have. It's a pity that you need to turn the menu dial in order to go between the different sections. Instead, it would have been much more intuitive if another jog 'up' would take you to the menu selection.
You get used to it, eventually, and it gets easier and quicker to go between the sections of 'My Menu' or between the menus of the Menu Dial, but it can have been implemented better.
For instance, the image quality menu marked 'Qual' is the only way to set image resolution and proportions. So if you like using the other menus frequently, you'll have to dial back and forth.
In a peculiar manner, the 'Delete' button jumps to delete the last image from any shooting mode, not only when reviewing. I can understand the logic of an immediate delete button, but I'd prefer it to have a shooting related function instead.
Another oddity in such a button rich camera, is that when zooming into a viewed image, all three dials have the same functionality and it isn't possible to view the next image before zooming back out again.
One last gripe - the shooting timer can't be configured to take more than one shot. Taking into account the P7700 has a built-in time lapse mechanism, you'd expect it to be able to shoot three of you standing with your family, instead of having to run back three times.
Shooting with the LCD
: Accurate exposure simulated on screen only during half press. Especially when using positive exp compensation Live view isn't faithful to exposure, only small changes are shown but serious under or over exposures aren't reflected by the lcd in live view but only after the shot is taken. This leads to an inevitable work flow of trial and error. Lack of a viewfinder will be noticed by those who usually prefer it over the LCD. For the rest, the LCD screen has a high resolution and low reflection. It is easy to work with for live view, with little interferences in drastic conditions, such as direct sun light on the screen itself or on the reflected face or white shirt of whoever's behind it (you!). Manual white balance is easy to set once you get used to the quick dial. You can save three manual presets for a diverse lighting environment.
Operation Speed
: There's no way around this. In terms of operation, the P7700 is irritatingly slow. I know my expectations are somewhat extreme when it comes to response times of electronic devices, but the menus taking a second to respond is slow in any scale. In some cases, I turned the control wheel and the counter action followed my changes as if in the next phase of things.
Besides the controls menus, when viewing images with full details on screen, it took a full second to switch from one image to the next.
To top it off, there are scenarios in which the camera does worse than just take time to respond. It down right doesn't. For instance, after zooming in or out, I had to wait a second before I could press the shutter. If I pressed it before the camera had 'recovered' from zooming, there was no response, and I had to release the shutter button and press it again.
Battery Life
: The P7700's official rating is 330 shot per charge, which is far better than most compact cameras, providing figures closer to 200.
This can be achieved thanks to the larger size of its body and its matching larger battery.
This is not all - real life experience shows that with little to no use of flash, the actual number is 400 shots on a single battery charge. Not bad at all.
Image Quality
Colors & Contrast
: It seems that Nikon have a taken a quite conservative approach with the P7700. Its default JPG output is gentle on colors and contrast, resulting in a mild output. This is not necessarily a bad thing, of course - as some cameras attempt to create a punchy output as possible.
Images of the P7700 are more natural looking, farthest as you can imagine from the likes of instagram. You can dial in different settings for more contrasty, sharper, saturated looks - that's totally up to you.
Dynamic Range
: Remembering that this a compact camera with a compact size sensor, there's a feeling that it holds firmly to details in sun lit clouds and white walls. The Active D-Lighting function provides extra support for contrasty scenes, at the price of off colors and overly warm images. As usual, for some reason, its 'low' setting works best:
ISO Range
: Compact cameras with 1/1.7" CMOS sensors usually deliver quite clean images at ISO's up to 400, exhibit some noise at 800 and deteriorate at 1600. The P7700 is no different, with images up to ISO 1600 usable for online sharing. This matter is subjective, of course, and depends on your needs and expectations.
For home usage, prints and enlargements are possible up to ISO 400 and in some cases even ISO 800. For emails and facebook, you can practically use any ISO level, as can be seen in the samples below:
A head to head comparison with one of the P7700's closest competitors, the Panasonic Lumix LX7 shows how close these two cameras are in that matter:
Coolpix P7700 VS. Lumix LX7
.
Advanced Features
Sweep Panorama
: One of the most fun features on any compact camera is the sweep panorama - and Nikon implemented it quite well in the P7700. In most cases it does a good job of stitching the multiple images together to create a seamless result.
Don't forget to shoot with the camera in a vertical position when creating horizontal panoramas in order to achieve better balanced proportions - see the difference in proportions in the examples below.
Macro
: Macro capabilities of the P7700 are not on par with the competition. You can get pretty close, but at some point around the 3cm mark (officially 2cm) it's obvious that you're too close and the camera doesn't focus anymore. Other cameras let you go as close as you want, to the point that the lens is pollinated by the flower of which you're taking a shot...
On top of all that, auto focus during macro is not easy to work with. Manual focus is better and although it requires more effort, it provides a higher hit rate.
Take a look at the difference in the shortest macro distance of the P7700 and the LX7 here:
Coolpix P7700 VS. Lumix LX7
.
Interval Timer
: One of the P7700's most cool features is its Interval Timer. Very useful and easy to operate, it allows shooting automatically at intervals between 30 seconds and 10 minutes. The LX7, for instance, limits its time lapse to a minimum of 1 minute, which isn't short enough.
Neutral Density Filter
: A Neutral Density (ND) filter allows relatively shallow Depth of Field in bright conditions, or alternatively - longer exposures for an enhanced feeling of motion, etc. It can easily be activated by the Fn button.
Artistic Filters
: In an instagramic notion, the P7700 provides no less than 16 filters and effects. Perhaps this is an attempt to allure those seeking gadget-like photography, but the P7700 also presumes to be a serious photographer's camera, thus not including phone qualities such as wireless connectivity or touch screen controls. This makes it all a nice-to-have but quite odd mix.
The Competition
As the market puts an ever growing emphasis on high quality cameras, the P7700 faces competition from many directions. Its antagonist is the
Canon PowerShot G15
(
compare
), with quite similar characteristics. Both cameras took a toll in favor of smaller bodies - the price for the P7700 was losing the P7100's viewfinder and the G15's price was the G12's articulating LCD.
Between the two, the G15 did a better job at downsizing - with its new body 5mm taller than the P7700 but a full 10mm thinner and 12mm shorter. The G15 lags behind the P7700 in terms of zoom power (140mm vs. 200mm) but it has a larger max aperture - negligible at the wide 28mm end (f/1.8 vs. f/2.0) and more significant at the long end (G15: f/2.8 @ 140mm vs. P7700: f/4 @ 200mm).
Another close rival to the P7700 is the
Panasonic Lumix DMC LX7
(
compare
), which has a significantly wider and shorter lens, but also larger aperture settings (f/1.4 @ 24 - f/2.3 @ 90mm). In spite of its protruding lens, the LX7 is smaller than the P7700 by 5-8mm in every dimension.
Smaller rivals come in the shape of Nikon's own
P330
(
compare
), the
Canon PowerShot S110
(
compare
) and Panasonic's smaller alternative to the LX7 - the
LF1
(
compare
)
The P7700 conquers all other high-end compact cameras when zoom is in question, except for the mighty and expensive
Fujifilm FinePix X-S1
(
compare
). The tradeoff is its size and max aperture which, while undoubtedly impressive, falls short of other alternatives.
Score:
Image Quality: 9
Performance: 8
Build & Handling: 8.5
Advanced Features: 8.5
EyalG's Total: 8.5
Rank:
Automatically compared to similar cameras, based on specifications:
Low Light:
Wide Angle:
Zoom Range:
Weight:
Other Features:
Price:
Total Rank:
Compare the Nikon Coolpix P7700 with Similar Cameras:
Other Tools:
Related Posts:
Related Pages: