Specifications 2:


Also Known As:
Lumix DMC TZ30

Type:
compact

Weight (inc. Battery)

[?]

:
206g

Wide Angle

[?]

:
24mm

Max. Focal Length

[?]

:
480mm

Zoom Range

[?]

:
x20

Sensor Size:
1/2.3"

Low Light Support

[?]

:
twilight

Image Stabilization

[?]

:
Optical

Raw Format Support

[?]

:
none

Manual Exposure

[?]

:
yes

Video Resolution

[?]

:
1080p

Optical Zoom In Video

[?]

:
yes

Stereo Sound

[?]

:
stereo

Battery Life

[?]

:
260 shots

Flip Lcd

[?]

:
none

Touch Screen

[?]

:
touch

Viewfinder

[?]

:
none

Freeze / Water / Shock - Proof

[?]

:
no

Dimensions (w-h-d)

[?]

:
104.9 x 58.9 x 28.2 mm

Macro Distance

[?]

:
3 cm

Built-in Wireless

[?]

:
none

Built-in GPS

[?]

:
built-in gps

Direct Video Button

[?]

:
yes

Panorama

[?]

:
sweep panorama

Rank:

[?]




53.2



Initial Price:
$349 (change:

↓

$100, 29%)

Last Price Change:


↓

$10 (4%) (Feb 6th)

Last Lowest Price:
$249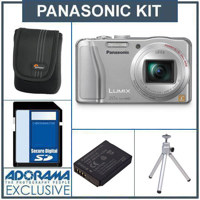 Support this site by purchasing accessories for the Panasonic Lumix DMC ZS20:
Panasonic Lumix DMC ZS20 - Full Review
The Panasonic ZS20 is a true jack of all trades - with few trade-offs, it's surprisingly non-compromising.
Important Note:
the ZS20 was replaced by the
Panasonic Lumix DMC ZS30
(
compare
).
It's a 206 gram - x20 zoom - $250 compact zoom camera. If that's not holding the stick from both ends, what is?
Strengths & Improvements
Last year, for the first time since the TZ1 in 2006, Panasonic had their boat rocked after half a decade of compact zoom dominance. The ZS10 was the first member of the 'ZS' (aka 'TZ') family not to be regarded as hugely successful, cutting edge innovative or market leading in the compact zoom sector.
The jump from CCD to CMOS was bumpy, and the output of the ZS10 left much to be desired. And then came the ZS20. On paper, it didn't improve much compared to the ZS10 - x20 zoom instead of x16, sweep panorama was added, and a tiny arch above the lens was added to its design, but not much more.
Inside, however, is a different story altogether. Its CMOS sensor is a renewed model, its menus are improved and its speed and accuracy are very, very good.
Build Quality & Handling
The ZS20 is in general intuitive to handle. The buttons are organized conveniently and the menu system is cleverly separated to a few main sections. Its body feels robust as plastic could be and its controls sturdy enough for most usages. Panasonic hold firmly to their 'camera / play' switch - which selects between photography and review modes, unlike most other companies which have only a 'play' button for the review mode and a half press on the shutter button for switching back to photography mode. This could be convenient for some, cumbersome for others.
Performance
Focus Speed
: In regards to focusing speed, the ZS20 exhibited no less than jaw-dropping performance. It's quick not only considering the fact that it's a $250, x20 zoom compact camera - facts which should imply average focusing speeds, but also compared to the best compacts out there. Not only does is focus quickly, the live view displayed on the LCD screen is not frozen (an irritating behaviour of many other cameras), so you are able to keep following a moving object even during that short focusing time, without having it move out of the frame, thus losing the shot or at least missing the focus point.
Operation
: It short, the ZS20 makes you feels that its makers knew what they were doing. This is not surprising, given the fact that it's the sixth generation of a respectable, almost royal family.
The best thing about it is that other than the well organized menus, most of the time you don't need to wait for it to finish doing something - be it focusing, image saving, turning on or mode changing.
Image Stabilization
: The Lumix Power O.I.S system does a fairly good job compensating for your hand's subtle movements. It allows taking a shot of an inanimate object at full zoom with a shutter speed of down to 1/5 seconds. Having said that, for %100 consistently sharp photos, you might need slightly faster shutter speeds.
Battery Life
: Officially, the ZS20 is capable of 260 shots between charges. In this test, with the GPS off and the flash rarely used, it managed to squeeze out 280 images before shutting down. Not highly impressive, but good enough for most usages.
Image Quality
Colors & Contrast
: Except for over warm colors during sunset, the ZS20 produces rich, but not exaggerated colors and pleasing contrast at all focal lengths - from the wide 24mm to the long end of the zoom - 480mm, better than many other compact cameras, especially better than those with a large zoom range.
ISO Range
: Being better than its predecessor is no big deal in the case of the ZS20, since the ZS10's high-ISO performance was nothing to write home about, to say the least. However, the ZS20 is not just better, it's actually good.
If you look very closely, you'll find noise in all ISO levels, but as a whole, images produced by the ZS20 are fairly clean and rich with details - for a compact camera that is.
For on-screen or online viewing you'd easily be able to go as high as ISO 800 and even ISO 1600 if your demands are somewhat liberal. For prints, especially large ones, lower ISO levels must be used.
You can see the ZS20's output in all ISO levels on this page and a comparison to the ZS10 on this
high-ISO comparison page
.
White Balance
: In daylight, the ZS20 does an expected good job - but that's no special news. The surprise starts when the day ends and bulbs replace the sun. The ZS20 identifies the warm artificial lighting and corrects image colors properly. It actually does such a good job in auto mode, weirdly better than the incandescent white-balance mode.
Other than that, the ZS20 lacks, for an unknown reason, a fluorescent white balance setting. This could have been overlooked had its automatic white balance did a good job under fluorescent lighting as it does under incandescent lighting, but - alas - it doesn't.
Advanced Features
Touch controls
: The touch controls of the ZS20 are in part nice-to-have, such as when flipping through images, and in part a useful tool, such as when tapping on the screen for selective focus and spot light metering. It makes it very easy and intuitive to 'tell' the camera where your subject is in the frame - no need to move focus points around or to meter the lighting and then recompose. Just compose your frame and touch the screen wherever you want to take an accurately focused and metered shot.
Note that for smartphone users, it takes getting used to, as the resistive touch screen of the ZS20 requires more than a whisker to activate.
Sweep Panorama
: The ZS20 is one of the first Lumix cameras to introduce sweep panorama - a growingly loved feature by consumers. Unfortunately, their attempt at this functionality is not a good one. It's highly sensitive to light changes, which make it stop the process altogether and in most cases the results are useless, with jagged, uneven seams between photos in the panorama. Rarely is it able to produce a decent panorama.
Continuous Mode
: Many cameras offer high burst rates of 8 to 10 frames per second and so does the ZS20, but those don't include autofocusing between shots. What's far more interesting is that it also offers a continuous mode of 5 frames per second with AF - that's something you can actually use.
The Competition
The closest competition comes from Panasonic's own
ZS15
(
compare
) - a classic lower spec'ed sibling to the ZS20 - it has a smaller x16 zoom range, no stereo sound, no touch screen controls and no built-in GPS. However, for all those features removed, the ZS15's is around 25% less than that of the ZS20.
As far as compact zooms go, every manufacturer has at least one flagship model - Canon has the PowerShot
SX260
, Nikon the
S9300
, Sony the
HX10V
,
HX20V
and
HX30V
and Fuji the Finepix
F770EXR
and
F750EXR
.
Both the
SX260
(
compare
) and the
HX20V
(
compare
) have more or less the same features and parameters as the ZS20, except for no touch controls - but both are significantly more expensive, a fact which makes the ZS20 stand out as a very attractive bargain.
Who is it not for?
If you're looking for a high-end compact camera, with RAW support and superb low-light capabilities - the ZS20 isn't that.
If you're looking for a low-budget, non-sophisticated camera, the ZS20 is probably not for you.
Who is it for?
If you're looking for a large zoom simple-to-use, do-it-all, and more so - do-it-all-well while at the same time fitting in your pocket kind of camera - the ZS20 could very well be the one.
Score:
Image Quality: 8.5
Performance: 8.5
Build & Handling: 8.5
Advanced Features: 8.5
EyalG's Total: 8.5
Rank:
Automatically compared to similar cameras, based on specifications:
Low Light:
Wide Angle:
Zoom Range:
Weight:
Other Features:
Price:
Total Rank:
Compare the Panasonic Lumix DMC ZS20 with Similar Cameras:
Other Tools:
Related Posts:
Related Pages: