Specifications 2:


Type:
compact

Weight (inc. Battery)

[?]

:
272g

Wide Angle

[?]

:
24mm

Max. Focal Length

[?]

:
720mm

Zoom Range

[?]

:
x30

Sensor Size:
1/2.3"

Low Light Support

[?]

:
twilight

Image Stabilization

[?]

:
Optical

Raw Format Support

[?]

:
none

Manual Exposure

[?]

:
yes

Video Resolution

[?]

:
1080p

Optical Zoom In Video

[?]

:
yes

Stereo Sound

[?]

:
stereo

Battery Life

[?]

:
400 shots

Flip Lcd

[?]

:
none

Touch Screen

[?]

:
none

Viewfinder

[?]

:
optional

Freeze / Water / Shock - Proof

[?]

:
no

Dimensions (w-h-d)

[?]

:
108.1 x 63.6 x 38.3 mm

Macro Distance

[?]

:
5 cm

Built-in Wireless

[?]

:
yes

Built-in GPS

[?]

:
built-in gps

Direct Video Button

[?]

:
yes

Panorama

[?]

:
sweep panorama

Rank:

[?]




54.2



Initial Price:
$449 (change:

↓

$20, 4%)

Last Price Change:


↑

$61 (17%) (Oct 30th)

Last Lowest Price:
$529

$429



The Sony Cyber-shot DSC HX50V is on a $100 rebate!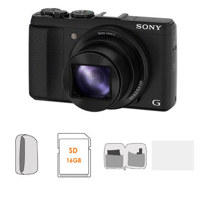 Support this site by purchasing accessories for the Sony Cyber-shot DSC HX50V:
Sony Cyber-shot DSC HX50V - Full Review


The Sony Cyber-shot DSC HX50V is on a $100 rebate!
- order now via the links in the box.
Important Note:
the HX50V was replaced by the
Sony Cyber-shot DSC HX90V
(
compare
).
Strengths & Improvements
This camera is one that pushes the envelope. In the race for the largest in size or in numbers or smallest in price or in size, the HX50 holds the title of the smallest camera with a 30x zoom... (wait for it...) IN THE WORLD!
The zoom is indeed quite incredible, especially in light of the fact that this camera fits (hardly) in your pocket. Perhaps not your jeans pocket, but any other.
Sony's compact cameras are mostly about ease of use - in terms of automatic shooting. The HX50 is no different. Its auto mode will take care of everything for you, and its auto+ mode will jump through hoops to get you the shot you wanted.
So, is there a tradeoff? A flip side to these headline titles? Let's take a close look.
Build Quality & Handling
The HX50 was bulkier than I expected. Competing with the such of the
Canon PowerShot SX280
(
compare
) and the
Panasonic Lumix DMC ZS30
(
compare
), it's surprisingly thick. But that's not necessarily a bad thing, as long as you don't try shoving it into your pocket.
The buttons spread is quite nice, in comparison to ordinary compact cameras. The exposure compensation button implies an affiliation to serious photography and is a genuine advantage in daily use, but then again there are no buttons for ISO, White Balance or Auto Focus, except for the custom button which can be configured to control one of those settings.
The Grip is deep and very comfortable. The video and on/off buttons are slightly recessed such that they are not pressed inadvertently. The top dials are stiff enough for that purpose, too but the one on the back - not so much.
The LCD screen is sharp and contrasty, but shows strong reflections in direct sun light, so avoid wearing white shirts if you can. Manual Focusing is easy thanks to the dial control and the automatic zoom in feature. There's no distance scale, though.
Note that 20 megapixels means large files - it's a good thing that SD memeroy cards are so cheap - I recommend at least 16GB, or even 32GB if you plan to go on vacation or take lots of videos.
Performance
Zoom
: The zoom range is the HX50's strong card and it performs well. On top of the 30x optical, there are digital additions, as well. There's a slight edge to the Clear Zoom feature on top of plain digital zoom but by a small margin only.
Operation
: The HX50 has an abundant menu system, with many options, settings, tweaks and controls. What it doesn't have is a hierarchy - all settings reside in a flat, long list which is a pain to navigate through.
Not only that, but many of the advanced settings hide behind the suitcase icon, which reveals a separate two layer menu system, so it could take quite a large number of button clicks to get to the option you want.
The confusion of the essence of this camera, being a friendly automatic or an advanced photography tool continues -
In 'asm' modes, switching between aperture shutter and iso by the middle button - which is very convenient, However, manual mode has no auto ISO and manual focus is accessible through the menu only - no dedicated or customizable button can grant immediate control over that.
When using superior auto mode - time between shots is excruciatingly long . The camera could decide it needs to combine several shots into one and that requires up to five whole seconds to be done processing.
Shot to shot times in Auto mode are about two seconds and a bit shorter than that in Program mode.
Finally, in a blunder of a feature list decision, the HX50 offers 4:3 and 16:9 width-to-height ratios. Really? No 2:3? No 1:1? Why?
Image Stabilization
: The optical IS mechanism is incredibly efficient during movie recording. With some careful attention, I could achieve steady hand held crane-like motion.
On the other hand, it was hard to frame at full zoom, especially on close objects not only due to the obvious reason of the object being very large in the frame. It's the all too effective image stabilization mechanism,alternating between locking on and then shifting sideways violently. The same locking and shifting has a strong effect on videos, as well.
Battery Life
: The battery is good for 350 shots, including some videos and a bit of wi-fi operation. Charging is done on-camera, so using a spare battery is less efficient.
On the other hand, you can charge the camera using any usb cable, and also easily purchase a lighter usb adapter for charging in your car - very useful when away on vacation.
Image Quality
Colors & Contrast
: Output from the HX50 is generally pleasant - colors are mostly accurate, even if a bit warm at times. The lens produces extremely strong ghosting when a strong source of light is in the frame, as can be seen in these examples:
ISO Range
: There's no way around the plain fact that at the heart of the HX50 lies a compact sized 1/2.3" CMOS sensor. Noise is visible at all ISO levels, though acceptable for prints up to ISO 400.
Colors and detail continue the constant degradation and by ISO 800 are still good for online viewing but suitable for small prints only. ISO 3200 marks the meltdown point, with a massive fall in detail level and color accuracy.
ISO 6400 and 12800 are nice on paper, but should be generally avoided, unless life depends on perpetuating the moment.
Video Quality
: In spite of it hinting at enthusiasts, the HX50 offers no controls over video, no variety of resolutions and no different framerates than the default.
As I wrote above, the image stabilization works wonders, as long as you don't pan aggressively. The zoom is decently quick (slower than when shooting stills, of course) and so is the autofocus.
Advanced Features
Wi-Fi Connectivity
: The wi-fi app controls offered by Sony does allow remote shooting, which is more than most others offer (except for Panasonic, that is), but it includes just the most basic functions - zoom and shoot.
Response times are slow, both when shooting and when receiving saved images to your mobile device. Wi-fi control is easy to set up and easy to connect. There is a noticeable delay to the phone's display, and between the time you press the 'button' on the phone and the actual shot taken. Sharing is available immediately after capturing an image - that's very convenient.
Continuous Mode
: The single greatest thing about the HX50's continuous shooting is its 'rock the camera sideways' playback. That's downright cool - you tilt the camera right and left during playback and the cameras traverses through the batch of images you took.
The 10 frames per second is impressive, no doubt, but the time it takes the camera to process the batch is unacceptably long. Shoot your kid blowing out the candles and you're bound to get the right shot. But if some of the candles stay lit and you need to shoot again after a few seconds? Forget about it.
Macro
: Finally! A camera with no macro mode. It manages to focus as close as 5 cm's without having to specifically tell it to. Perhaps the tradeoff is some hunting at all distances and focal lengths, but nothing too serious.
Macro strength at 5 cm is nothing to write home about and what's even less impressive is macro at full zoom, which requires a good 1.5 meters distance. The sole up point here is the fabulous shallow depth of field in the end result when using the full zoom power at such a distance.
Artistic Filters
: There are quite a few special effects to choose from, some of them really nice, others not so much. Some of them take a second or two for the camera to process after taking the shot, others require around ten seconds of internal computation, during which the camera is disabled. Even more so when multiple shots are involved.
The Bottom Line
The HX50 provides plenty, if you're patient enough to let it. It's a powerful tool, a heavy piece of machinery compared to its similars, and equally paced down. Using the usual car analogy, you can drive it around at normal speed, and use a normal amount of gas. Turn on its turbo (this being special effects or auto+ mode) and will gulp down huge amounts (that's processing time, if you didn't get it). Give it time to work its magic, and it will be yours to keep.
Score:
Image Quality: 8.5
Performance: 8
Build & Handling: 8.5
Advanced Features: 9
EyalG's Total: 8.5
Rank:
Automatically compared to similar cameras, based on specifications:
Low Light:
Wide Angle:
Zoom Range:
Weight:
Other Features:
Price:
Total Rank:
Compare the Sony Cyber-shot DSC HX50V with Similar Cameras:
Other Tools:
Related Posts:
Related Pages: